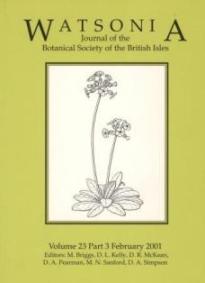 Watsonia was the journal of the BSBI from 1949 till 2010, and it has now been replaced by the New Journal of Botany.
Visitors are welcome to download papers for their own purposes, but the copyright remains with the BSBI and they may not be reproduced for distribution or sale without permission.
To find the paper you want, you can download the complete index to Watsonia by Chris Boon and Gwynn Ellis:
Digitized volumes of Watsonia can be found on the Biodiversity Heritage Library website, but we also have our own digitization programme where individual papers can be found on the pages below.